Using Photography to Teach Tolerance
In my 10 years of teaching at Central Connecticut State University, I have never observed a master-class quite like this.   Commissioned by Dr. Mendez-Mendez within his digital photography section, the class included a full-day workshop of photographic and studio techniques with a twist – tolerance.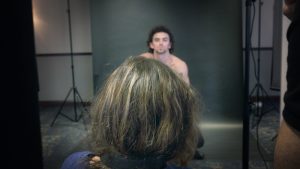 Christopher Ammon, a participant on MTV's THE REAL WORLD was immediately noticeable.  He sat shirtless, while being prepared with costume and make-up for a masculine look.
After students were guided through an initial photo shoot, a transformation to the feminine side began.  Ammon was fitted with inch-long nails, glittering eye shadow and rich mascara, as student-photographers focused on issues of tolerance and understanding within the LGBT community.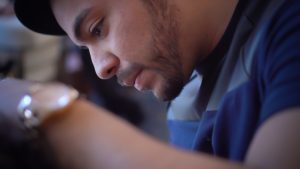 Charged with developing the masculine and feminine look, was master-make up artist, Andrey Girard whose impressive credentials include, THE VIEW, FOX NY, MTV and many other leading networks and shows.   The class was conceived and lead by celebrity photographer and social activist, Thomas Evans, who developed the curriculum.   Throughout the day, he not only provided very specific lessons and tutorials in studio photography, Evans also merged meaningful LGBT content, to increase insight and understanding within these issues.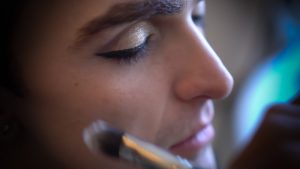 Throughout the day, a portable studio was built, broken down and rebuilt, while students explored lighting positions and photographic accessories.  Guided by Evans, each student developed and shot their own versions of masculinity and femininity using the same model.  They worked on posing differences, styles and shooting techniques, but as opposed to derogatory comments, there was an intense focus on artistry, understanding and artistic outcome.
The master-class also included post-production techniques and individual tutorials in Photoshop, coloring and finishing.   Students developed personal relationships with industry professionals, who not only shared their diverse backgrounds, but also taught very meaningful photographic skill as well.   The innovative endeavor, aimed to increase LGBT tolerance and skill, was brought to the University by Professor Mendez-Mendez with support from the Vance Foundation.   For additional information,  Thomasevansphotography.com   Email:  Tevansphotography@gmail.com